Cyclone Tauktae LIVE | 2 Dead 1 Injured in Maharashtra | Reaches Gujrat till 17 May Evening IMD
Cyclone Tauktae LIVE | Reaches Gujrat till 17 May Evening IMD

Tauktae turns into a severe Cyclic Storm centered over the east-central Arabian Sea, about 150km southwest of Panaji, Goa. The IMD (India Meteorological Department) said that it is very likely to intensify further during the next 12 hours. It hurdles towards Gujarat coasts and will reach there in evening hours of 17 May and till May 18 early morning, it will cross Gujarat coast between Porbandar and Mahuva.
Panaji, Gujrat: On 16 May due to a severe cyclic storm Tauktae two persons in the goa died, damaged hundreds of houses, blocked some highways as trees fell at several points.
A girl in North Goa died, who had gone to fetch water from a well and crushed it under a tree that fell due to cyclonic winds and a man riding a two-wheeler died due to an electricity pole fell on him.
According to the IMD's ( India Meteorological Department ) warning, the cyclonic winds will continue to blow in the coastal state on Monday 17 May 2021.
Chief Minister Pramod Sawant said that the major impact of the cyclone was seen in Bardez taluka in the North Goa district and Mormugao in South Goa.
Electricity Disruptions Affected Oxygen supply for Covid Patients in Goa: There were electricity disruptions for some time at the Goa Medical College and Hospital (GMCH), where COVID-19 patients are undergoing treatment. It could have affected the oxygen supply there, but an oxygen tank installed there on Saturday averted a major tragedy as it ensured an uninterrupted oxygen supply.
A 20,000 kiloliter capacity oxygen tank has been set up by the Goa government in the GMCH on Saturday, which was made functional immediately after the complaints of patients in COVID-19 wards dying due to lack of oxygen.
Gujrat still remains on alert on Monday as cyclonic storm Tauktae is likely to intensify during the next 24 hours and reach the Gujarat coast on Monday evening, the IMD has said.
2 Dead and 1 injured in Maharashtra: Around 3 pm today in Maharashtra Two sisters (17 years old & 12 years old ) lost their lives & their mother seriously injured after a tree uprooted & collapsed on their hut due to strong cyclonic winds in Anchalwadi area of Jalgaon. It affects electricity poles and power supply in many parts of the coastal state.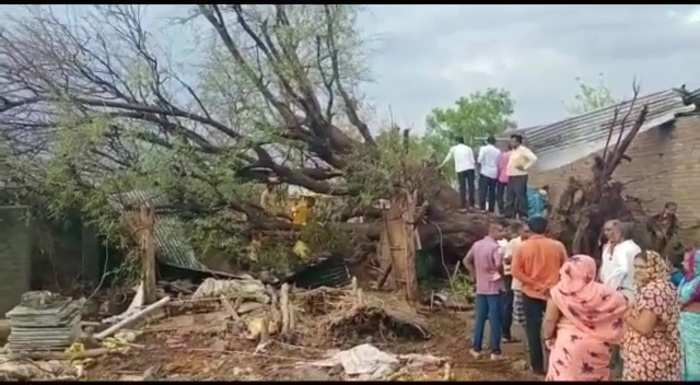 4 Died in Karnataka: 4 died and 73 villages have been affected in Karnataka so far due to the Toute cyclone.
Home Minister Amit Shah attend a meeting regarding the Toute cyclone and insisted on maintaining power backup in hospitals.
The threat of cyclone tout remains in Gujarat: Around one and a half lakh people have been shifted to the lower coastal areas with 54 teams of SDRF deployed in Gujarat due to the threat of cyclone.
Very heavy rainfall is expected to occur in coastal areas of Gujarat on 17 May and 18 May.
Cyclone Alert: As per Radar observation (DWR GOA) at 2030IST, the VSCS "Tauktae" lay centered at 17.1N/72.1E, with a distorted circular eye of around 40 km diameter and at a distance of 416 KM south-southeast of Diu.
Vaccination against COVID-19 will remain suspended across Gujarat on May 17 and May 18 in view of Tauktae.